The last time Texas and Oklahoma both brought new head coaches to the Red River Rivalry was in 1947. Blair Cherry led the Longhorns and Bud Wilkinson the Sooners. Texas' leading passer that year, Bobby Layne, threw for 965 yards the entire season. Oklahoma's punter was a guy named Darrell Royal – he'd go on to be a semi-important football figure. Oklahoma competed in the Big 6 conference and Texas in the Southwest.
Fifty-one years later, the teams would join the same conference for the first time.
Three years after that, Mack Brown and Bob Stoops met for their initial Cotton Bowl battle. Their clashes would last over a decade and define the early stages of a fledgling conference – the Big 12.
The Red River Rivalry will see the introduction of two new coaches for the first time in 70 years on Saturday when Tom Herman (Texas) and Lincoln Riley (Oklahoma) make their head coaching debuts in the series – both served as assistants in this game previously. It's a meeting that will have a lasting effect on the 2017 season and could set the tone for a new era of Big 12 football.
Neither coach is backing down from the weight this game carries.
"I think when you go into one of the most storied rivalries in college football history, if not the most (storied), I think it's important you recognize that this is a big game for a lot of people in both states," Herman said Monday.
"It's big regardless of what's happened in the past," Riley said at his weekly press conference Monday. "It's one of the great games in college football year in and year out."
But it's the latter statement – the Big 12's future – that is the most important aspect of this game.
It can't be overstated how important Oklahoma and Texas were to the Big 12 while Stoops and Brown ran their respective programs. They won two national championships, played for six, won 12 of 19 possible Big 12 titles and coached four Heisman Trophy winners between the two of them. All of that production, by the way, came between 1998 and 2016.
Without Oklahoma and Texas, the Big 12 would've collapsed long ago when Nebraska, Colorado, Texas A&M and Missouri left the conference. There are other strong supporting pillars – TCU, Baylor, Kansas, Texas Tech and Kansas State have all taken their turns as contenders – but the Big 12 will always be only as good as its flagship programs.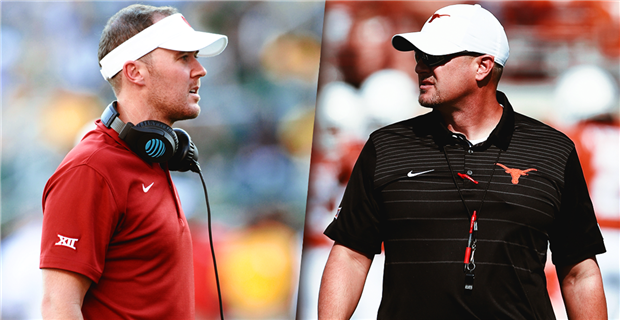 That's a heck of a lot of exposition, but it's needed for context of just how important Herman and Riley are to the Big 12. If they succeed, the future of the conference moves from shaky to reasonably stable. If they don't, you might as well start the countdown timer to blow the whole thing up.
But what does that big picture have to do with Saturday?
A lot.
Stoops held a 9-6 overall record against Brown in the Red River Rivalry, and those defeats were a narrative Brown had to consistently paddle up stream against. Stoops, meanwhile, paved a direct recruiting pipeline into Texas with those wins.
Texas wanted Adrian Peterson badly.
Instead, he rushed for 225 yards against the Longhorns as a true freshman in a 12-0 2004 win. The Sooners would go on to play for the national championship that year, by the way. The 11-1 Longhorns, well, they were sent to the Rose Bowl.
Of Stoops and Brown's 15 meetings, the winner of the game went on to win the Big 12 eight times.
That's how important this game is to both teams and the conference.
Right now, it's more vital than ever. The Big 12 is the only conference to be left out of the College Football Playoff twice in its three-year history. That's small sample size, but it's a stat that looms large in a sport where perception matters more than any other. The way a team is viewed is a byproduct of a conference's overall success, which, in turn, impacts recruiting. That, of course, affects a team's ability to compete on a national level.
A Big 12 team hasn't played for a national championship since 2009 when Texas lost to Alabama. Every other Power Five conference has had at least one national championship representative since 2014.
That's a big gap, and the Big 12 is starting to feel the toll.
That brings us back to Herman and Riley.
Oklahoma and Texas are the Big 12's power programs, but neither has made true waves on a national level in almost a decade. The Sooners have been good, mind you, but they haven't consistently competed with the best of the other Power Five conferences. As for the Longhorns, they're in a seven-year spiral that's inspired more questions of "Is Texas back?" than actual results.
Riley and Herman are supposed to change those things.
At Texas and Oklahoma, that process usually starts with a positive result in the Red River Rivalry.
This game won't define either the Longhorns' or Sooners' season in 2017, but it is the signal of a new era in the Big 12's history. Oklahoma and Texas hope Herman and Riley face off for more than a decade like Brown and Stoops did. Both are young – Herman (42), Riley (34) – and could be capable custodians of these programs for years if things break right.
Only one new head coach can win Saturday.
But both need to find success for the Big 12's sake.