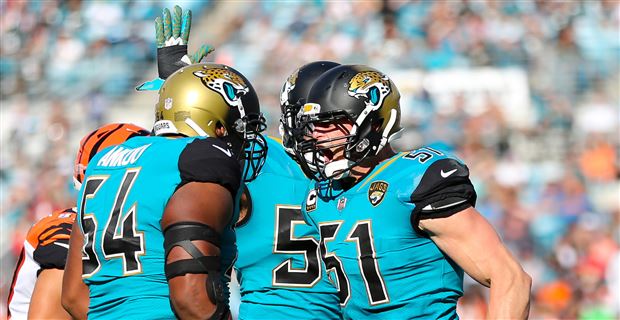 Jacksonville Jaguars' fans will see Paul Posluszny on the field on Sunday when the team takes on the Pittsburgh Steelers in the AFC Divisional Playoffs.
Posluszny has been dealing with an abdominal injury that forced him to miss practice earlier in the week. The thought of losing a veteran leader in a situation like this – where the loser of this game goes home – could have been costly had one of the team's captains been sidelined.
"I just thought, 'There's no way he's not going to get himself ready to play,''' Marrone said on Friday while talking with the media.
"In my mind, I was never thinking we might not have him," Marrone said. "I was thinking, 'Golly, who's the guy who's going to actually have to shoot him to keep him off?'''
This is the first season Posluszny has played in the playoffs in his career. He was originally drafted in the second round of the 2007 NFL Draft out of Penn State by the Buffalo Bills – the team the Jaguars beat 10-3 last week.
According to the team, Posluszny left the Buffalo game shortly before halftime. He missed practice Wednesday, but returned on a limited basis Thursday and practiced Friday.
Per John Oehser of Jaguars.com, the team listed two players as questionable on the Friday injury report: wide receiver Jaydon Mickens (hamstring) and linebacker Blair Brown (ankle), the latter of whom sustained the injury in practice Wednesday. Brown missed practice Thursday and – like Mickens – was listed as working limited Friday.
Both could still see action on Sunday.