LeBron James has done a lot of good for the Cleveland Cavaliers. However, his approach for the future could use some work.
The Cleveland Cavaliers are not playing well as of late but that doesn't dismiss the strong likelihood, well guarantee, that they will make it to the eastern conference finals.
Of course, the Cavs need some upgrades, most notably at center. As nice as it would be for Cleveland to make the necessary adjustments, the franchise can't go completely all-in.
By all-in, I am mainly referring to giving up the Brooklyn Nets' pick that will be lottery bound. The reason behind that is the uncertainty James' future holds.
More from Factory of Sadness
James came back and won a championship, the first in Cavaliers' history. That is great and without him, Cleveland's wouldn't have been in the position to win it all. Still, looking at the big picture, why not at least give owner Dan Gilbert and general manager Koby Altman insight into the plans for next season and beyond?
Without the necessary commitment, Cleveland is in a very difficult situation. The uncertainty surrounding James' future has been ongoing for what seems like forever.
With or especially without James, the Nets' pick is extremely valuable. Now, by including that pick in a trade, weaknesses would be resolved in the short-term but the Cavaliers would still be risking their future.
By keeping the Nets' pick, Cleveland could potentially land a star.
Yes, Cleveland and James have had their differences over the years but it would be courteous of him to discuss what he is thinking. Now, I am not saying James must tell the media, no that would be silly to do. Rather, just have a conversation with the appropriate people and keep details in-house.
In the meantime, Cleveland may have to settle for a secondary trade option or go without moving forward following the trade deadline. If that happens, the best bet for the Cavs would be for a piece or two to get waived and sign for a minimal amount.
From James' point of view, it makes sense the way he is taking care of business. Why discuss his future when he doesn't have too? On the other hand, James is holding Cleveland hostage. The writing is on the wall: Right now, the options and flexibility are limited.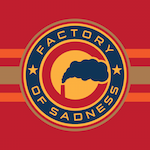 Want your voice heard? Join the Factory of Sadness team!
Whatever happens, happens. Hopefully, though Cleveland can improve their roster, while also keeping the Nets pick and re-signs James.